Earthlight Highland Fibre
The rollout of fibre by Chorus is largely known as UFB. This is the first step for fibre services. While UFB is the most common product in use, additional types of fibre service are available. Earthlight offers these additional fibre options. Highland Fibre offers a fibre connection with the tailored characteristics and is more technical to provision. This is where our expertise helps you.
Typical installations include voice traffic, linking office locations together, and service provisions where fibre is not avilable. Guaranteed service speed and bandwidth profiles mean the connection can be used in applications where this is important.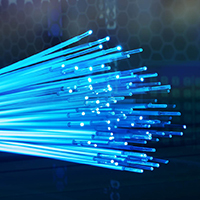 Think of these connections as 'pipes'

No Internet access is provided by default, but can be added to a service

End connections can connect across copper or fibre according to requirements

One off installation fee for build, then a 12 month initial term applies

Often a router will need to be obtained or is provided as part of the service build

Access speeds range from 1MBit/s to 10Gbit./s (that is not a typo)

Service bandwidth ranges from 0.128MBit/s to 10GBit/s

No data plan, unlimited bandwidth

Make contact with us to discuss your requirements.