Earthlight Quick!



We offer Wireless (WiFi) under the name Quick!. With a growing number of devices connecting, service needs to remain, well - quick. Coverage and speed are two key ingredients. For many gone are the days of single built-in WiFi on a router being sufficient for service. We are practised scoping a site and getting it right for top service.
For home or work it means all areas have coverage and speed.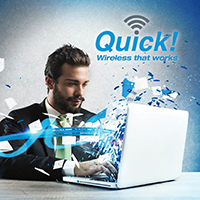 Here is some of how Quick! helps you:-
We visit to assess the site layout. We will take measures, including building construction, other WiFi networks in the area.
WiFi is often delivered by way of separate nodes (gadgets) which are placed according to need
We can run network cabling to deliver service to where nodes are located
Network and node performance is monitored
Our options will vary according to the location. No two are the same, so we assess first. .
Make contact with us to check out how Quick! WiFi can be delivered to you.