Spot the Difference
Okay, seems pretty simple. Well it was, until as you can see things flew to bits.
For the people affected it is a big issue. Let's start at the beginning.
Plan A
Client gets in touch. Purchased new property. Sale/purchase is on Friday, today. Can we arrange service please. Sure can. Head to site directly (*always* take a looksee first). There is UFB, router, WiFi all in place. Some checking reveals the current service is set to disconnect on Monday. We prepare a router to replace the existing one as part of taking over the fibre service.
While checking, spot there is another order for fibre a day later. This suggests the site will go dark for a day while things change over. Okay, first priority is keep services running. So we place a separate UFB order to cover bases.
What ONT?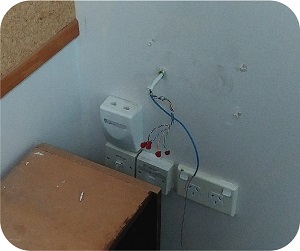 Arrive onsite on Monday with our router.
Where is the ONT?
Where is the WiFi gear from sale/purchase?
Looks like another strike for our "plug and go" standing joke.
Many problems; with no ONT nothing is going. We need to organise a fault with Chorus. That'll take time to sort and push through their system. We "work the system" to get a replacement ONT fitted on Monday. Meantime we raid our spares to get WiFi hardware, prepare and deploy. Client up and running.
We will leave the 'discussion' over equipment taken during sale/purchase to others.
Things that worked (aka Plan B)

Always viewing the site meant we know layout and details quickly
Being on the ground (the client is based out of town) meant issues got dealt with
Carrying kit ready to go, it got people back up and running fast
We call it service. Client happy, tenants online. If you want looked after, this highlights what we deliver.